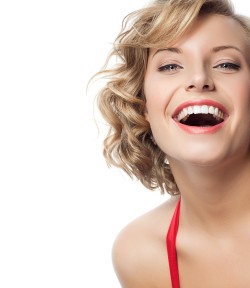 Cosmetic dentistry provides an opportunity to correct any problems you might have with the look of your smile. If you're unhappy with the way your teeth look, a simple procedure might be all you need to restore your look and your self-confidence.
Types of Cosmetic Treatments
There are several options for cosmetic dentistry treatment. You and your dentist will decide together which are the best for your individual situation. For example, if you have discolored teeth and small gaps between your teeth, one selection of treatments will work well for you, while another selection of treatments will work better for missing teeth or for misshapen teeth.  Some common cosmetic treatments that can make a dramatic difference in how your smile looks include:
One or more of these approaches can give you new confidence in your smile.
Choosing the Right Treatment
You and your dentist will work together to determine what treatment or combination of treatments will give you the look you desire for your smile. Some people, for example, might only need a relatively simple teeth whitening treatment to restore their teeth to their former look. Other people might need multiple dental implants to replace missing teeth, or veneers to correct the look of teeth that have suffered surface damage or severe discoloration.
These treatments can also be combined for an even more dramatic transformation. A combination of teeth whitening and composite bonding, for example, can whiten your smile and correct asymmetrical or misshapen teeth. Sometimes referred to as a "smile makeover," this kind of combination of treatments lets you address numerous issues with your teeth often in a single visit.
To find out more about aesthetic dentistry treatments and how they can help you restore your smile and your self-confidence, please contact our cosmetic dental team at Glenwoods Dental Office.  Call 905-476-8285 today.