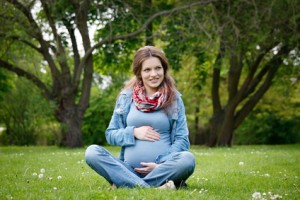 Teeth whitening is one of the most popular ways of improving the way your smile looks. It is a generally safe, easy, and effective procedure. Although the whitening agents used in teeth whitening are considered to be safe, they have not been tested to see how they affect your baby while you are pregnant or nursing. For this reason, it is best to wait to have your teeth whitening until you have stopped nursing your baby.
How Teeth Whitening Works
Teeth whitening uses a strong whitening agent to remove stains and discoloration from the surfaces of your teeth. It is administered in the office and usually takes only about an hour. Your cosmetic dentist will place a protective gel on your lips and gums so the whitener will not cause irritation.
In general, this procedure is considered to be very safe. If you are pregnant or nursing a baby, though, you should consult with your dentist to see if you should wait to whiten your teeth until a later time. Many dentists will recommend this option. There has been no extensive research on the effect of teeth whitening on the growing baby, or on its effect on breast milk and the nursing child. So dentists don't really know what the effects might be. For this reason, it is recommended that you avoid teeth whitening while you are pregnant or nursing.
Alternatives to Teeth Whitening
During pregnancy, and often after you've given birth, you can feel self-conscious about the way you look. If you're unhappy with the way your teeth appear, you can try other options besides professional-strength teeth whitening. A whitening toothpaste or mouthwash might help alleviate some of your concerns, but be sure to talk to your OB/GYN and your dentist before using these products.
If you are planning to get pregnant and have concerns about your teeth, be sure to talk to our cosmetic dentist at Glenwoods Dental Office ahead of time. If you have your teeth whitened or have other cosmetic work done beforehand, you can feel more self-confident during your pregnancy. Call 905-476-8285 for an appointment today.