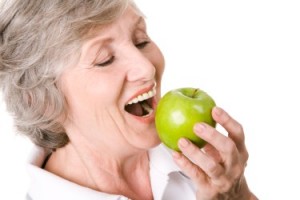 Regular visits to your family dentist, as well as everyday oral hygiene, are vitally important to the health of your teeth. However, eating right is also a large part of your oral care. In addition to keeping your body healthy, a good diet keeps your teeth strong and can help prevent gum disease.
Advantages of a Healthy Diet
A healthy diet keeps everything about your body in better balance. Your immune system becomes stronger, you're able to recover from illness and injuries more quickly, your skin remains clearer, and your bones are stronger. How does this translate to your dental health? A stronger immune system helps keep inflammation from developing in your mouth, leading to gum disease. A diet with proper amounts of calcium and other minerals helps your teeth repair themselves when plaque or acidic foods cause minor damage to the enamel. And avoiding sweets and empty-calorie foods that are mostly sugar reduces your risk of tooth decay. A healthy diet also helps control the growth of bacteria in your mouth by reducing the amount of sugar available for it to feed on. It also helps maintain the correct acid balance in your mouth, which also helps reduce and control bacteria levels.
Basics of a Healthy Diet
A diet that will keep your teeth strong and healthy is basically the same as a diet that will keep your body strong and healthy. Some added considerations will ensure good oral health, as well. As a general rule, you should:
Eat plenty of fruits and vegetables
Be sure you eat sufficient calcium from a variety of sources
Avoid highly acidic foods, which can erode your enamel
Avoid sugary foods and sodas
Avoid sticky foods that cling to your teeth
Maintaining this kind of diet will help you stay healthier overall, as well as keep your teeth and mouth in good health. If your teeth remain strong, you'll be less likely to experience tooth loss as you grow older. See your family dentist at Glenwoods Dental Office for additional tips on how to modify your diet for optimal dental health. Call 905-476-8285 today.