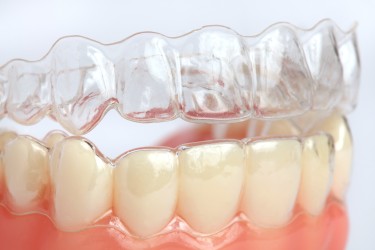 Invisalign is an orthodontic treatment that provides an alternative to traditional braces. As with braces, you'll need to observe several precautions during your treatment to ensure the best possible results. Most of these are not overly complicated, and making sure you take good care of your teeth and your alignment trays during treatment will help you achieve the perfect smile you desire.
Taking Care of Alignment Trays
Invisalign works by using a series of clear plastic trays to gradually move your teeth into a new position. These trays are custom-made to fit your mouth and ensure appropriate and successful treatment. Taking proper care of these trays is a vital part of your treatment.
Some general guidelines for taking care of alignment trays include:
Avoid staining agents like coffee, tea or nicotine
Avoid hot beverages that could warp the trays
Rinse trays with water after eating or drinking with them in place
Remove trays for specific occasions as recommended by your dentist
As a general rule, you won't have to eliminate specific foods from your diet, such as apples or corn on the cob or sticky foods. However, your cosmetic dentist might recommend that you remove the trays while eating, or while consuming certain foods or beverages. It's important to avoid staining the trays, as this will make your teeth look discolored. Hot beverages can warp the trays, which means they will no longer maintain the appropriate shape to properly shift your teeth into position.
Ensuring Effective Treatment
In addition to avoiding certain foods and beverages while you are wearing your trays, there are other ways you can help ensure your Invisalign treatment will be effective. Although your trays are removable, you should wear them at least twenty-two hours out of every twenty-four. If you do not, your treatment will not be as effective and you might have to wear your trays for a longer period of time.
Also be sure to keep your trays clean. If food or beverage residue remains in the trays, you could increase the likelihood of tooth decay. So be sure to wear your trays regularly and rinse after every meal.
Talk with our cosmetic dentistry team at Glenwoods Dental Office by calling 905-476-8285 today.