Does My Oral Health Affect My Overall Health?
Yes! When you have gum disease (also known as "periodontal disease" and "periodontitis"), your overall health could suffer:
Expectant mothers who experience significant gum disease are at much greater risk of having a premature or low birth weight baby.
Diabetics who are afflicted with chronic periodontitis have far more difficulty controlling their diabetes than those who do not have gum problems.
A strong association has been found between having periodontal disease over many years and a higher incidence of cardiovascular disease in the form of heart attacks and strokes.
Recent research indicates that kidney disease is also associated.
The cause and effect relationship between ailments in your mouth and the other disease processes just mentioned is not precisely understood, but there is a common thread appearing in all the research.
Has anyone ever told you that you grind your teeth at night? Is your jaw sore from clenching your teeth when you're taking a test or solving a problem at work?
Clenching or grinding your teeth can put excess force on the supporting tissues of the teeth and can speed up the rate of disease in your gums, teeth and bone.
Gum disease is a chronic infection that hurts your gum tissue and the bone that holds your teeth. It puts you at risk of other health problems such as heart disease.
Gum disease is the body's inflammatory response to the bacteria in your mouth. Diabetic complications, cardiovascular disease, and preterm and low birth weight babies are all the result of other inflammatory mechanisms in your body. It is thought that if you have severe enough periodontal disease for long enough, it will trigger these other inflammations.
Dental visits are a must at least twice a year so periodontal disease can be detected and treated before it progresses to a phase where it can affect your general health.
Periodontitis can strike anyone of any age at any time. Dental visits are a must at least twice a year so periodontal disease can be detected and treated before it progresses to a phase where it can affect your general health.
Many people are susceptible to gum disease. Don't be embarrassed. Instead, get serious about it.
The word "periodontal" literally means "around the tooth." Periodontal disease is a chronic bacterial infection that affects the gums and bones supporting the teeth.
There are three stages of periodontal disease: mild, moderate and advanced. It is very important to not let it get to the advanced stage where bone loss can occur and your overall health is at risk.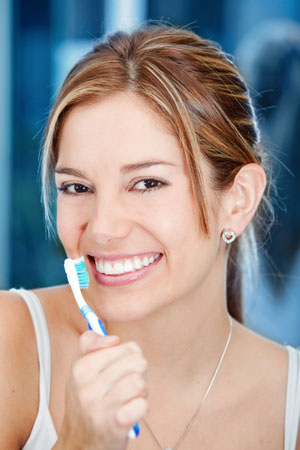 Regular checkups and daily brushing and flossing are crucial for preventing this disease. The mildest form of gum disease is called "gingivitis." It you have gingivitis your gums will redden, swell and bleed easily. There is usually little or no discomfort to begin with so it can easily sneak up on you.
Although gingivitis is often caused by inadequate oral hygiene, it has been reported that up to 30% of the population may be genetically susceptible to gum disease. Tooth crowding also contributes to the problem because it is difficult to thoroughly clean around crowded teeth. Like more severe periodontitis, gingivitis is a serious infection that requires attention. The good news is that gingivitis is reversible with professional periodontal treatment and good dental hygiene.
The good news is that gum disease can be controlled and, even in its advanced stages, treated.
It's important, though, to catch it as early as possible before your bones, teeth, and systemic health are affected.
If you are diagnosed with advanced periodontitis, you will be referred to a specialist, and this periodontist may recommend surgery. Periodontal surgery is necessary when it is determined that the unhealthy tissue around your teeth cannot be repaired with non-surgical treatment.
The best way to prevent periodontitis is to brush and floss your teeth daily and to see your dentist or periodontist regularly for professional tooth cleaning and gum examination.
If you do contract the disease, all is not lost. Seeing your dentist as soon as possible is the most important first step you can take to saving your teeth – and the health of your whole body.